GARMIN TOUR GUIDES
LATEST 2011 POIs AND DETAILS OF NEW ZEALAND DEPARTMENT OF CONSERVATION (DOC) CAMPING SITES
(LOTS OF PHOTOS AND DETAILS SUCH AS COSTS, HOW TO GET THERE AND TYPES OF FACILITIES INCLUDED)



Latest revision for 2010/11 year based on DOC publication Nov 2010 which can be obtained free as a downloadable pdf or free hard copy printed brochures.


There are a total of 8 new camping sites available this year including some closed ones available in the free download below.






This file can be downloaded and placed in your GPS unit to search for details on all 220 DOC camping sites.






Note that actual POI itself is avaiable on the current NZOGPS street maps however it has limited details.


This "add-on" aims to showcase what is possible using Garmin's POI LOADER and tour guide map concept.


Photos and details of camp ground such as costs per night, how many sites are available and access details as well as whether tap water, showers, cooking facilities are available etc



Source data
This was created based on the publicly available PDF files on DOC website published Nov 2010 for 2010/11 year (full-list-of-north-island-campsites.pdf and full-list-of-south-island-campsites.pdf). Please go to DOC website for more details.



FEATURES AVAILABLE



Includes the following features (all courtesy of DOC):-



photo of actual camping site



available facilities at site - eg. tap water, picnic tables, cooking facilities, boat ramp, hot or cold showers, rubbish recycling, rubbish removal, wheelchair access able, pet friendly, fire restrictions etc



cost of camping sites



how to get there



access requirements - eg. sealed, gravel 4WD only, boat only etc



activities and special features of the site - eg. lakeside setting, walks, tramps nearby, fishing, hunting, bird spotting etc





FEEDBACK
NEV from NZ Open GPS
Thank you...

FWIW - This also works perfectly on my Dakota 20 including photos (use finger scroll to read all text). Well done.
graemewi from NZ Open GPS
Works great on my Dakota and Nuvi 250 - great work!
freddo from NZ Open GPS
Just found this and it works great on the gpsmap 62s. Thanks for all the hard work.
COMPATIBILITY


Tested and works great on :-
Garmin Nuvi 3760 (with latest firmware update 3.60 - tested on Australian / NZ firmware only)


Garmin Nuvi 765T /755T


Garmin GPSMAP 60 CSX (no detailed text/info available though)


Garmin Dakota


Garmin Nuvi 760


Garmin Nuvi 255


Garmin Nuvi 250


Garmin Oregon 300


Garmin Oregon 550 - very nice display - better than the Nuvis in my opinion.


Garmin Oregon 450


Garmin GPSMAP 62s


Garmin Nuvi 1250 - rc, Your file works perfectly on my Nuvi 1250.


---
INSTRUCTIONS FOR USING GARMIN TOUR GUIDE DOC CAMPING POIs
Unzip the ".gpi" file onto a folder in your computer



Plug in your GPS into your computer's USB port



Navigate to \Garmin\POI folder on the GPS unit



Copy the gpi file from your computer into this folder on your GPS



Unplug your GPS from your computer



Follow the screenshots below on how to find POIs and text.




Note, unfortunately, Garmin 60 and 76 series (and HCX series) will not be able to display additional text but searching for the POI works.



I have confirmation from "Nev" from NZ Open GPS Projects forum that this works on a Garmin Dakota series (screenshot).





Scroll to bottom for download link



Here are some screenshots from a Garmin Nuvi Nuvi widescreen (model 755T and 765T)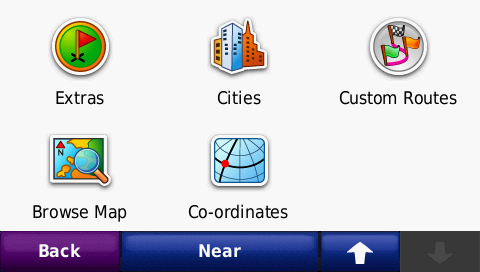 Go to EXTRAS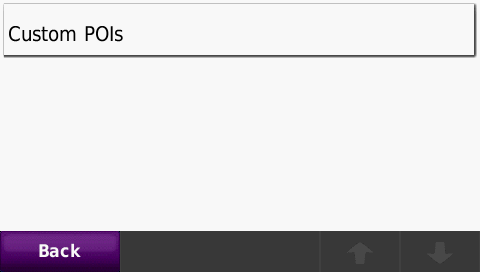 Select Custom POI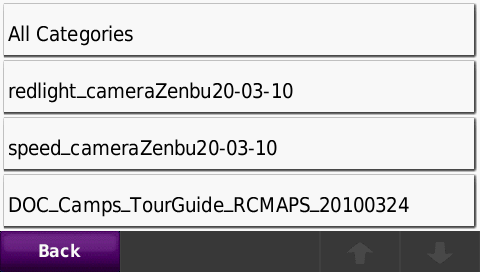 Select DOC_CAMPING_Grounds_RCMAPS_20100324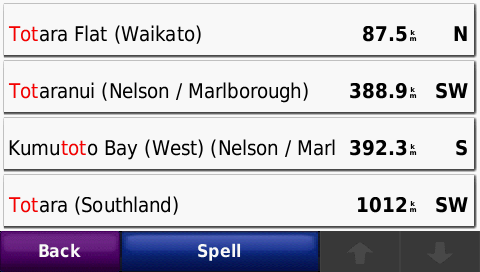 Type location eg TOTARANUI (NELSON/MARLBOROUGH)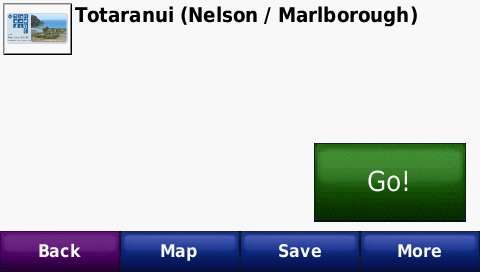 Search results displayed, select the picture on the upper left to....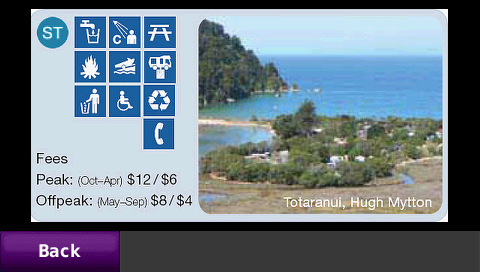 Photo displayed to give you an idea of what the site looks like.....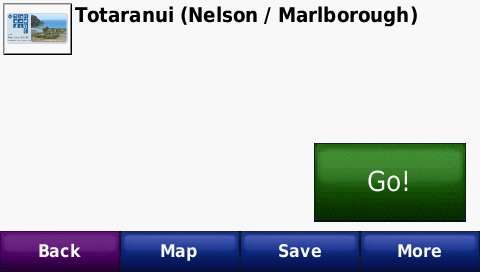 Press BACK then MORE to display the info and details at this site





Press DOWN ARROW button to scroll down...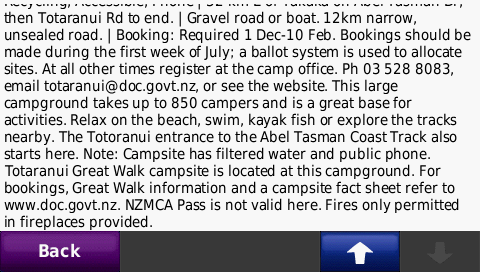 Here are some screenshots from a Garmin GPSMAP 60CSX
| | |
| --- | --- |
| Go to CUSTOM POI | |
| Select DATABASE | |
| Select DOC_CAMPS_TourGuide | |
| Select the POI required | |
| Enter | |
| Enter | |
DOWNLOAD FREE GARMIN TOUR GUIDE POIs OF DOC CAMPING SITES
---
DISCLAIMER & LICENSING
USE AT OWN RISK




THE AUTHOR ACCEPTS NO RESPONSIBILITIES FOR ANY DAMAGES INCURRED AS A RESULT OF USING THIS GUIDE (Use them at your own risk)




THIS POI GUIDE MUST NOT BE SOLD.




DISTRIBUTION MUST BE FREE - NO CHARGES MUST BE LEVIED WHEN LOADING THIS GUIDE ONTO SD CARDS OR LOADING THIS GUIDE INTO GPS UNITS (EXCEPT FOR COST OF MEDIA IF APPROPRIATE)




IF YOU OBTAINED THE GUIDE FROM ANOTHER WEBSITE (ESPECIALLY PDA, MOBILE PHONE SOFTWARE SITES) THAT HAS RE-PACKAGED/RE-COMPILED THE GUIDE, IT MAY CONTAIN VIRUSES OR TROJANS - DELETE THOSE AND GET IT HERE





---
DOWNLOAD FREE 2011 GARMIN TOUR GUIDE POIs OF DOC CAMPING SITES
DONATIONS
If these maps have been useful to you please kindly consider clicking on the
Donate button
below which will take you to a secure Paypal Site where you can donate using most major credit cards.
I leave it up to your generosity to decide on the amount of donation. Alternatively, please click a few Google ads links - won't cost you a dime. This will help towards covering my internet costs.
Thank you.
GO BACK TO MAPS
HOME
Advertisements