DISNEYLAND & DISNEY CALIFORNIA ADVENTURE DETAILED THEME PARK MAP
DISNEYLAND AND DISNEY CALIFORNIA ADVENTURE THEME PARK (SEARCHABLE & AUTO ROUTING)

V2009 R1
REVISION HISTORY


I was planning a trip to this area and found no free maps of Disneyland (California) theme park available at all, hence I proceeded to undertake a project to create my own maps from publicly available data sources. 
While every effort are made to ensure accuracy of this - the map may be slightly out by a few metres.  
Furthermore, thanks to Don at Mousesavers.com, I initially downloaded his POI files in Garmin gpi format but found out that it was for Florida's Disney World, that inspired me to create this map for my use in Jun 2009 and for others in a similar situation.

These are auto routing and will aid in estimating distances between main attractions and areas.  
If you're wondering how far and how long it is to walk from main entrance to Toontown then double back to Indiana Jones etc, just set a "route" and find out!  
Just remember to set your GPS to "walk" mode so that it auto routes and calculates the time based on a 5km/h speed - you just get fairly accurate ETAs, depending on how fast you walk. 
(BTW - It's 800m from main entrance to Mickey's House in case you're wondering!)
 I have tested this on my Nuvi and GPSMAP60CSX with Garmin's Street Navigator North America maps and it displays perfectly - both maps visible and working with no tweaking necessary.
You will also find that most attractions and places are "searchable" on your GPS.  I have not really named the streets apart from the main ones to enable some sort of street searching.  
All the main areas such as Fantasyland, Adventureland, Frontierland, ToonTown, A Bug's Life, Downtown Disney, Tomorrowland, Paradise Pier, Hollywood Backlot etc are searchable under "Cities"

The roads are also compiled with proper routing hierarchy - eg, Arterial, Collector, Residential street level priorities.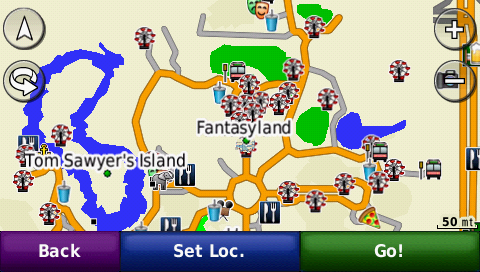 This means that it will route you through main thoroughfares rather than narrow alleys if available - just as when you're driving.
Items available as POIs (most items searchable) include

All major rides
All major attractions and shows
Toilets
Food and Drinks
Shops

Feedback and corrections most welcome to improve these maps.

If you find this map useful and helped you save some time getting around and saved your legs, please consider making a small $5 donation to keep this site going.  :-)
Thanks

Works only mainly on GARMIN GPS units. However, it is also possible to use these on GPS mobile phones such as Nokia, Motorola, HTC etc as well as PDAs using appropriate software. Just do a search here in the box below.



Custom Search
FOR OTHER ARTICLES ON TIPS AND HINTS ON GPS AND MAP AUTHORING, HAVE A LOOK
HERE
****************

Requires Garmin Mapsource to view and upload maps to your GPS
HOME