THIS IS A SPECIAL EDITION OF THE NZ OPEN GPS Auto Routing and DOC Tramping Tracks (includes some mountain bike tracks) MAPS
UPDATED MAP RELEASE - 17 JAN 2010
FREE GARMIN NZ OPEN GPS AUTO ROUTING, DOC TRACKS AND SRTM 10M TOPO CONTOUR LINES MAP





New updates to road maps including lots of new POIs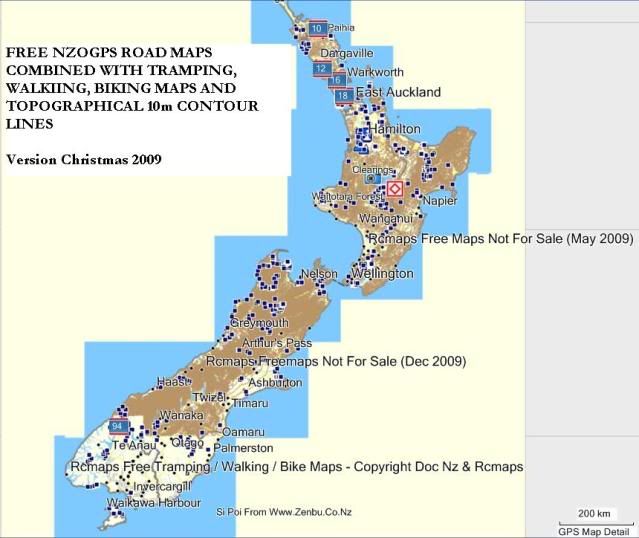 Scroll to bottom for download link



Christmas 2009 - 20091225



FREE GARMIN NZ OPEN GPS AUTO ROUTING, DOC TRACKS AND SRTM 10M TOPO CONTOUR LINES MAP


SCREENSHOT ON A GARMIN 60CSX




COMMENTS




MrPurple (Apr 2010)



"I recently had the pleasure of tramping the Hikurangi Range between Purity hut and McKinnon Hut (The track for which I'll upload to RC to add to his tracks). Unfortunately at 6:30pm We discovered that our dog had eaten some rat bait...

So, while I wouldnt recommend night tramping [-X , we we're able to use RCs maps to find our way in the pitch black over to the road end over the next 6 hours (normally a 3 hour tramp). We lost the track a number of times and without the GPS and RCs integrated topo map we surely wouldnt have been able to get out, jump in the car and make a quick getaway to the vet at Taihape for the antidote.

So here's a special thanks from us and our dog to the GPS community for these maps you lot are truely life savers!

(The dog is fine now - just as naughty as ever)"




---
kiwtonita

"Many thanks, it was an easy 10 minute download (no download manager etc) so will install it on a few units to try out.
Laymen like myself have no idea of the number of hours the OP (Open Project) mappers already contribute so this extra effort is certainly appreciated.
It's uncanny to be able to use the route tool on a track!"
---



This combines NZ Open GPS road maps with RCMAPS's DOC Tramping, Hiking, Walking and Biking maps and SRTM 10m topographical contour lines of New Zealand



Thanks to a R Birch from Australia who downloaded the CGIAR V4 SRTM 10m contour lines raw data and sent that to me to compile and incorporate into these maps.





FEATURES





Street and address searching should work for both road and tracks




Street Searchable - you can search for track names





to SEARCH for ROAD MAPS, SELECT Country = NEW ZEALAND



to SEARCH for TRACK names, SELECT Country = NZ-Doc




Only contains DOC managed tracks, regional, city council or private tracks not available




Please download my other tramping maps if you need a complete set of maps - in future the intention is to "merge" both these maps




All tracks are named and identified by way of colour coding as either tramping grade (rough and require some route finding skills) or "motorway" grade - eg Great Walks! ;-)




Auto Routing - gives you estimated time to your destination (based on 5km/h setting as long as you remember to reset your GPS unit for "walking mode")




Track Names some with distances and time to complete




POIs of key tramping features




Different track types displayed differently on Mapsource and GPS using new features of the map compiler and also visible at three different zoom level setting!




Valid types are MTB/Cycle Track, Great Walks (both these visible at LEAST detailed zoom level setting), Short Walk, Walking Track, Easy Tramping Track, Route and Historic Track (only viewable at MOST detailed zoom level)
LIMITATIONS
Base data from DOC had many errors which required hundreds of hours of work to clean up into a routeable and properly working - so enjoy and please feedback any further corrections



Requires Garmin Mapsource to view and upload maps to your GPS
DONATIONS



If these maps have been useful to you please kindly consider clicking on the

Donate button

below which will take you to a secure Paypal Site where you can donate using most major credit cards.

I leave it up to your generosity to decide on the amount of donation. Alternatively, please click a few Google ads links - won't cost you a dime. This will help towards covering my internet costs.




Thank you.







DOWNLOAD FREE NZ STREET & WALKING TRACKS TOPO MAP

---
Advertisements